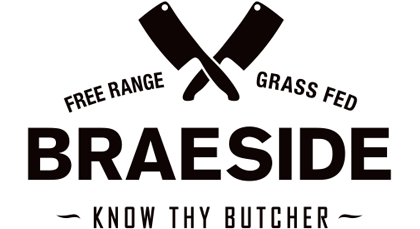 Braeside Butchery opened in 1941. It was the corner butchery in Parkhurst, back in an era when everyone knew the name of their butcher, and the story behind their meat. Flash forward 76 years, to a world transformed by agricultural efficiencies and supermarket chains, and Braeside is still an independent, local butcher, that lives by these old-fashioned principles. And it is these principles that make Braeside the epitome of ethical farming and sustainability.
We caught up with Caroline, the owner of Braeside Butchery. The butchery has been in her family since 1996, and she has been running it for the past 15 years. She recalls a visit to the UK in 2007, where she visited many butcheries, to gain experience and inspiration. "The butcheries I admired the most were the ones who told me where their meat came from, what breed of cattle it was, the feeding regime and the kinds of grasses they ate." And from then on, Braeside Butchery only supplied free-range, grass-fed meat.
Braeside partners with farmers around the country, from Mooi River to the Karoo, to source the best ethically farmed meat and poultry. And they take it very seriously, having protocol in place that tracks all their meat from beginning to end, from the animal's life, all through to slaughter, transportation and preparation. Not only are the farms audited, but so too are the abattoirs and the butchery itself. You can be rest assured that the animals behind Braeside's meat were happy and healthy, eating what's natural to them, allowed to roam freely and free of routine antibiotics and chemicals.
But more than the protocol, it's about the relationship these farmers have with their animals.  Caroline personally visits all the farms, and tells of one such occasion: "Cattle and sheep herds are really large, averaging 500 in size. Even so, although the farmers might not have names for their animals, they're incredibly in tune with them. I remember visiting a farm in Mooi River, and we drove towards a big open field. I could see a small herd of beautiful brown cattle, about 50 or so, and as we drove towards them, they all lifted their heads in unison and slowly ambled to the fence. They looked so happy to see the farmer! I remember saying 'That's amazing, it's like they know you!', and the farmer responded, 'Of course they know me, they're my cattle, they know the sound of my car.' It was at that point that I knew I was doing the right thing."
However, being an 'old-school', independent butchery in our modern society is not easy, where consumers aren't in touch with the meat industry, and they don't know the story behind the meat they're eating. There's also a tendency to cherry pick the parts of the animal we like the most, fillet steaks, chicken breasts, lamb loin, and when this happens the rest of the animal goes to waste or is dumped in other countries. According to Caroline, your average cow carcass has around 300 kg of edible, high quality, delicious meat, including offal, and only about 3 kilos of that is a fillet steak. Embracing the whole animal is a more sustainable way of eating and subsequently, farming.
And even more importantly, we've forgotten just how delicious the rest of the animal actually is. Caroline's favourite cuts of meat are brisket and short rib, two cuts that most consumers may never have eaten. And how does she cook them? "Low and slow! Brisket is the breast of the animal, it's quite fatty and gelatinous, but think of it as the best part of oxtail, it's delicious! And short rib, low and slow is also good, but cut up and cooked as rashers on a braai, that smoky charcoal taste – oh yum!"
Braeside is one of the few butcheries that still does whole carcass butchering, and the difficulty with buying the whole cow, is that you then need to sell the whole cow. Caroline believes that education is key, starting with her team of butchers. Braeside partners with chefs, and chef students, who come and visit the butchery. This culture of sharing means the butchers teach the students about the different cuts of meat, and the chefs help the butchers to understand how they need to be cooked. As challenging as it is to work with a whole carcass, it's also incredibly rewarding, and this shows in how the butchers then engage with customers, helping to pass that knowledge on. And Caroline's vision for Braeside, is that it plays an important role in educating the end consumer about meat, by providing convenient ways to buy free-range, grass-fed meat, and further instilling the "Know thy butcher" philosophy.
The Munching Mongoose partners with Braeside Butchery, amongst other local butchers, to offer delicious, ethically farmed meat packs, conveniently delivered to you. From delicious chicken and succulent lamb to tasty biltong, all our meat comes from healthy, happy animals, and is free from growth hormones and routine antibiotics. Visit The Market to see our full range of meat packs, and to add one to your order now.